Typical Tradition Julen: In this cosy speciality Restaurant in the centre of the village of Zermatt, you can taste the history and the attachment to the homeland in every dish. Raclette, cheese and meat fondue, Zermatt lamb specialities from the wood-fired grill promise authentic Valaisian enjoyment of the highest quality. The decision is hard to make when you look at the menu? Tip: In Valais, raclette is also a popular starter!
Cosy restaurant in a central location
The ambience in the Restaurant Schäferstube is incomparable: pure cottage charm - unsurpassed in authenticity and tradition in Zermatt. Here you will experience the genuine, original Matterhorn village and, in addition to really good food, the hospitality of the Tradition Julen Team.
After dinner, enjoy a drink in the cosy bar of the Hotel Julen, just one floor above the Restaurant Schäferstube. Fancy a beer in the Pub? Directly opposite is the Papperla Pub, which is also part of the Tradition Julen and guarantees party atmosphere. Do you prefer an excellent glass of wine and a cigar? With pleasure! The Cigar Lounge of the Hotel Alpenhof Zermatt is only a short walk away from the Restaurant Schäferstube.
Table reservation
Please choose between one of our two service times:
The first is from 6pm (or 6.30pm if you prefer) until 8.30pm and the second starts from 8.45pm.
| | |
| --- | --- |
| Monday | 18:00–22:00 |
| Tuesday | 18:00–22:00 |
| Wednesday | 18:00–22:00 |
| Thursday | 18:00–22:00 |
| Friday | 18:00–22:00 |
| Saturday | 18:00–22:00 |
| Sunday | 18:00–22:00 |
It doesn't get any better! Cosy alpine hut atmosphere with excellent food. An exceptional treat for lamb lovers!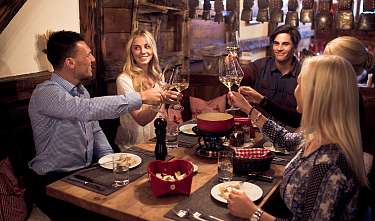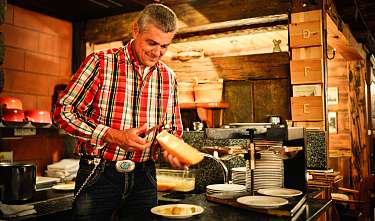 Meat of the highest quality or our own breeding
If you are interested in the origin of the meat served in the Restaurant Julen and the Restaurant Schäferstube, visit the family Julen's farm. Let us introduce you to the breeding of the Valais black-nose sheep and the tradition of the Evolen cows. Paul and Paul-Marc Julen look forward to sharing their passion for animals and nature with you and will also be happy to show you the farm's own biogas plant of the Tradition Julen Zermatt. Every Wednesday from mid-December to mid-April. Registrations are possible here.
Restaurant Schäferstube - Riedstrasse 2 - CH-3920 Zermatt - Schweiz
Tel +41 27 966 76 00
tradition@julen.ch